If you want to buy something, you have to work hard first, right?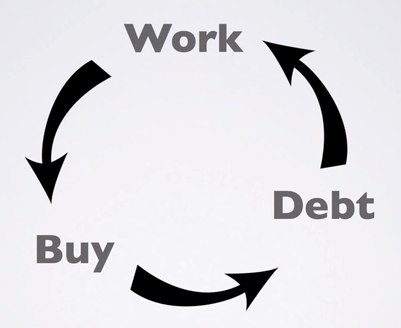 Without work, you cannot earn money to spend, am I right again?
Well, you can still buy things even if you do not have enough money.
For the past 30 years of working, most of the world have perfected this – increasing our debt.
By doing so, you were able to buy things and satisfy your lifestyle without working too much.
Study dept is the first dept most of us grow, then often house, car and other necessities give us no choice creating more dept along the way. Many of us create credit card dept besides all the above.
But this is the problem. The banks and credit card companies have also perfected their tactics in lending but later charging you with super high interest. To add to the problem, if you are one of those 80% who do not like your jobs worldwide, you have to force yourself to do the job that you hate just to pay your debt you did not wanted in the first place! Not an ideal situation, eh?
Here's another painful truth. If you are tired with your job, you tend to spend more. You spend money in buying unnecessary things. You buy the latest gadgets, branded clothes, or take an expensive vacation. Sad to say, many of people do these bad habits to fight stress and to escape from their work to begin with.
If you are now in this situation or you think that you are likely to be in this situation soon, you better act now, it's never too late. But if you do not know how, you can start by understanding the two best investments that will greatly effect your lifestyle over time.